The NIH has poured $1 billion into long Covid research — with little to show for it
The NIH has poured $1 billion into long Covid research — with little to show for it
The University of New Mexico Health Sciences Center in Albuquerque is one of 53 research centers across the U.S. participating in NIH RECOVER's adult cohort study, which aims to understand long Covid by tracking patient symptoms. (Photo by Shelby Wyatt for Source NM)
The University of New Mexico Health Sciences Center in Albuquerque is one of 53 research centers across the U.S. participating in NIH RECOVER's adult cohort study, which aims to understand long Covid by tracking patient symptoms. (Photo by Shelby Wyatt for Source NM)
This story was originally published by MuckRock, and STAT News. It is republished under a Creative Commons (BY-ND 4.0) license.
WASHINGTON — The federal government has burned through more than $1 billion to study long Covid, an effort to help the millions of Americans who experience brain fog, fatigue, and other symptoms after recovering from a coronavirus infection.
There's basically nothing to show for it.
The National Institutes of Health hasn't signed up a single patient to test any potential treatments — despite a clear mandate from Congress to study them. And the few trials it is planning have already drawn a firestorm of criticism, especially one intervention that experts and advocates say may actually make some patients' long Covid symptoms worse.
Instead, the NIH spent the majority of its money on broader, observational research that won't directly bring relief to patients. But it still hasn't published any findings from the patients who joined that study, almost two years after it started.
There's no sense of urgency to do more or to speed things up, either. The agency isn't asking Congress for any more funding for long Covid research, and STAT and MuckRock obtained documents showing the NIH refuses to use its own money to change course.
"So far, I don't think we've gotten anything for a billion dollars," said Ezekiel Emanuel, a physician, vice provost for global initiatives, and co-director of the Healthcare Transformation Institute at the University of Pennsylvania. "That is just unacceptable, and it's a serious dysfunction."
Eric Topol, the founder and director of the Scripps Research Translational Institute, said he expected the NIH would have launched many large-scale trials by now, and that testing treatments should have been an urgent priority when Congress first gave the agency money in late 2020.
"I don't know that they've contributed anything except more confusion," Topol said.
Patients and researchers have already raised alarms about the glacial pace of the NIH's early long Covid efforts. But a new investigation from STAT and MuckRock, based on interviews with nearly two dozen government officials, experts, patients, and advocates, and more than 100 pages of internal NIH correspondence, letters, and public documents, underscores that the NIH hasn't picked up the pace — instead, the delays have compounded.
It's difficult to pinpoint exactly why progress is so stalled, experts and patients involved in the project emphasized, because the NIH has obscured both who is in charge of the long Covid efforts and how it spent the money. The broader Biden administration has also missed opportunities for oversight and accountability of the effort — despite the president's lofty promises to focus on the disease.
The NIH's blunders have massive ramifications for the more than 16 million Americans suffering from long Covid, in addition to those with other, similar chronic diseases. As the biggest government-funded study on this topic, the NIH initiative, dubbed RECOVER, sets precedents for future research and clinical guidelines. It will dictate how doctors across the country treat their patients — and, in turn, impact people's ability to access work accommodations, disability benefits, and more.
"The NIH RECOVER study is pointless," said Jenn Cole, a long Covid patient based in Brooklyn, N.Y., who wanted to enroll in the study but found the process inaccessible. The research is "a waste of time and resources," she said, and fails to use patients' tax dollars for their benefit.
In response to STAT and MuckRock's questions, the NIH and an institute at Duke University managing the clinical trials defended the initiative, without providing a clear explanation for the delays.
The NIH said it chose to fund a large-scale research program instead of small-scale studies to make sure data and processes could be shared across different groups of patients, adding that clinical trials will be launching soon. In these trials, standardized study designs will allow the agency to test multiple treatments across multiple sites. If there are signals a drug works, the agency said it can pivot to devote more resources there.
A Department of Health and Human Services spokesperson said the agency has made progress over the last year in responding to long Covid, and that there are research efforts underway in addition to the RECOVER program.
"The Administration remains committed to addressing the longer-term impacts of the worst public health crisis in a century," HHS said.
In 2020, Congress made an investment of $1.2 billion to learn more about the mysterious ongoing symptoms that were afflicting some people infected with Covid-19. That sort of money to fund research into a chronic condition like long Covid was virtually unheard of.
The money was explicitly earmarked to fund both research to understand the disease and clinical trials to test treatments that could bring patients relief. But more than two years in, the agency hasn't started testing a single treatment. Nor is it planning to test many in the future. Instead, it's focused on observational research — and that, too, is behind schedule.
The NIH is planning five clinical trials, each of which will test treatments that may help with a major category of long Covid symptoms. Some of these treatments will be drugs, while others will be behavioral therapies, such as cognitive retraining. Each trial will include 300 to 900 patients, selected based on their symptoms, according to details shared during a webinar in mid-April.
The only trial to be formally announced so far will focus on Paxlovid testing whether the drug alleviates symptoms by mitigating any ongoing viral infection in patients' bodies. The study was supposed to start recruiting in January.
But as of April, RECOVER hasn't signed up a single patient for any of those clinical trials. And the timeline has slipped over and over again.
Initially, in a letter to members of Congress prompted by STAT's March 2022 reporting on the initiative's slow start, the NIH told lawmakers that the agency expected to launch clinical trials by that fall. But by August, the estimated launch had slipped to "by the end of 2022." Then, another delay became public in December, when one of the NIH officials leading RECOVER told advisers that clinical trials would begin by the first quarter of 2023. Now, Duke University, which is overseeing the clinical trial infrastructure, told STAT and MuckRock it expects the first patients to sign up for trials this summer.
Emanuel said the pace of trials shows little urgency on the part of NIH.
"If you don't have the pathobiology figured out, you try things. You don't just slow, slow, slow, walk it," he said.
All five clinical trial protocols are going through safety reviews, and the Food and Drug Administration is reviewing the trials that will test Paxlovid and other drugs, the Duke Clinical Research Institute said. The institute plans to share these protocols publicly when reviews are complete, but did not provide an estimate for when that will happen.
Faster progress is possible. A similar study at Stanford, which received funding directly from Pfizer, was also announced in October 2022 but has already begun recruiting patients. This trial was "able to be more flexible and get the study started faster" in comparison to RECOVER because it's smaller, said Upinder Singh, the study's principal investigator. Singh and her colleagues are only testing Paxlovid and doing so at only one location, rather than comparing different treatments.
Duke was also supposed to create a patient registry to collect information about long Covid patients, but that initiative hasn't been launched, either.
"A patient registry is still planned, but the scope is being reassessed to most effectively meet the needs of the Initiative," Duke said.
Rather than prioritizing treatments from the start, the NIH used much of its long Covid funding on a large-scale study to track long Covid symptoms and learn how the disease works. This choice has frustrated patients because thousands of other studies have already answered many major questions about the condition.
"We didn't need to recreate" existing studies that already answered these questions, said Cole, the long Covid patient. Researchers have been compiling lists of common symptoms since summer 2020, she said. For Cole, fatigue and brain fog are the most debilitating aspects of the condition.
And even the symptom study is moving slowly, in part because the initiative has failed to bring in healthy people who could be compared against long Covid patients. RECOVER quickly filled its slots for people who had Covid more than 30 days prior to their recruitment, but is still looking for people who were infected recently, study lead Leora Horwitz said in a statement. Most study sites closed enrollment for long Covid patients at the end of August 2022.
The majority of the scientific findings to emerge from RECOVER so far have been based on small groups of patients or on electronic health records, rather than on the thousands of people who signed up to participate.
The crawling pace of the government's long Covid efforts stand in stark contrast with the government's wildly successful partnership with the pharmaceutical industry to get Covid-19 vaccines to market in less than 12 months. There are no ongoing efforts to support independent private-sector companies or researchers trying to study treatments for long Covid through the NIH, even though some have proved promising. Just this month, the White House left long Covid out of a $5 billion effort to research next-generation Covid-19 treatments and vaccines.
Long Covid researchers feel there needs to be greater urgency. Singh compared the pressure that she's currently under to the pressure many scientists faced earlier in the pandemic when studying vaccines and treatments. "We as a scientific community need to focus on long Covid and find solutions for long Covid," she said.
Topol echoed this sentiment, citing a recent opinion piece in Scientific American that called for an Operation Warp Speed for long Covid treatments. "That's what should have happened," he said.
It's almost impossible to tell where the NIH's $1.2 billion pot of long Covid money has gone.
There is no single NIH official responsible for leading RECOVER, and the initiative has failed to share basic information that would typically be available for a government research project of this scale.
Unlike Operation Warp Speed and other Covid efforts, the NIH has outsourced much of the work of running RECOVER to outside organizations. New York University, RTI International, Mayo Clinic, Massachusetts General Hospital, and Duke University are responsible for various parts of the initiative.
Many of the research projects associated with RECOVER have been funded through these organizations rather than directly from the NIH. This process makes it hard to track how decisions are made or how money is spent through public databases, said Michael Sieverts, a member of the long Covid Patient-Led Research Collaborative who has a background in federal budgeting for scientific research.
Public records requests that MuckRock filed to the agency in late 2022, intended to answer questions about RECOVER's funding, are still incomplete as of mid-April. Sieverts has similarly asked questions to NIH officials and received no responses.
The organization of RECOVER itself is convoluted, and difficult to figure out even for patient advocates who are directly involved, they said. It's advised by a complex series of committees, some of which aren't even posted on the initiative's website. There's no one person ultimately responsible for coordinating among the different institutes — and requests for information about the leadership hierarchy have been ignored.
"They don't have an org chart for the entire thing that exists, after two-plus years," said Diana Güthe, the founder of Survivor Corps and a RECOVER adviser who has asked at nearly every meeting she's attended.
Lauren Stiles, a patient advocate and President of Dysautonomia International who serves on several RECOVER committees, shared similar concerns.
"There's a complete lack of transparency. When we ask who made this decision … they won't tell us," Stiles said.
As a result, when RECOVER says it's running out of funds, it's hard to identify who is responsible for major decisions.
In response to questions about the initiative's budget, the NIH said it has no money available for additional programming. The agency said $811 million has been legally committed to various activities, and the rest is earmarked to support future research activities.
The budget restrictions are having practical impacts already.
A RECOVER advisory committee responsible for ranking and evaluating potential treatment options was put on hiatus "due to a lack of funds," the committee's leader told members in late January, per an email exchange shared with STAT and MuckRock that has not been previously reported.
The NIH told STAT and MuckRock that the committee was paused because the clinical trial medicines, devices, and treatment programs have been chosen. However, the agency said that the RECOVER clinical trials are "adaptive platform trials," which means they are designed with the intention of removing and adding treatments as new information becomes available.
This current budget squeeze didn't come without warning: The NIH was well-aware last summer that the agency wouldn't have enough money to run clinical trials that matched the initiative's goals of reaching patients with diverse symptoms.
One of RECOVER's co-chairs wrote to Congress in June that "additional resources are necessary" to test the full range of treatments needed.
But the Biden administration isn't taking any action to get more funding within the agency, or from lawmakers.
NIH acting Director Lawrence Tabak told patient advocates that the agency isn't planning on directing any further funding for RECOVER within the agency. The agency said that such a request would potentially undercut a failed request for supplemental funding that Congress ignored last year.
The Biden administration didn't request any new funds for RECOVER in its 2024 budget, a largely aspirational document that reflects the administration's financial priorities.
The budget did include $130 million in long Covid-related asks for other agencies, including for the Health Resources and Services Administration to support care for long Covid patients with complex needs and to educate primary care providers, and for the Agency for Healthcare Research and Quality to research the delivery of long Covid care and to establish long Covid care hubs.
There's also little accountability for NIH leaders to disclose how funds are spent or respond to other concerns with RECOVER because an entity intended to oversee long Covid research across the federal government hasn't been created.
In April 2022, President Biden issued a presidential memorandum calling on federal agencies to "harness the full potential" of the government, in partnership with private sector partners, to respond to long Covid.
The follow-through has been lacking on the initiative's highest-profile goal.
In August, in a congressionally mandated national long Covid research plan, the Biden administration said it would create an Office of Long Covid Research and Practice at HHS. This month, HHS put out a fact sheet touting the administration's progress in reaching its goals — and conspicuously omitted any mention of the office.
An HHS spokesperson said that the department is working to develop the office, and requested funding in next year's White House's budget for the Office of the Assistant Secretary for Health to coordinate response efforts to long Covid.
"It seems to have been like, well, if we don't do anything, maybe no one will notice," said Güthe. "It's so important to do an evaluation of what was promised. What's been accomplished, and what hasn't?"
A huge chunk of funding to study a chronic illness like long Covid is rare, so any clinical trials that the NIH chooses to run are crucial choices — and some doctors and advocacy groups have voiced serious concerns about the selection of one clinical trial in particular.
That trial would test exercise as a potential long Covid treatment, despite years of research suggesting that exercise could harm patients and set back further study.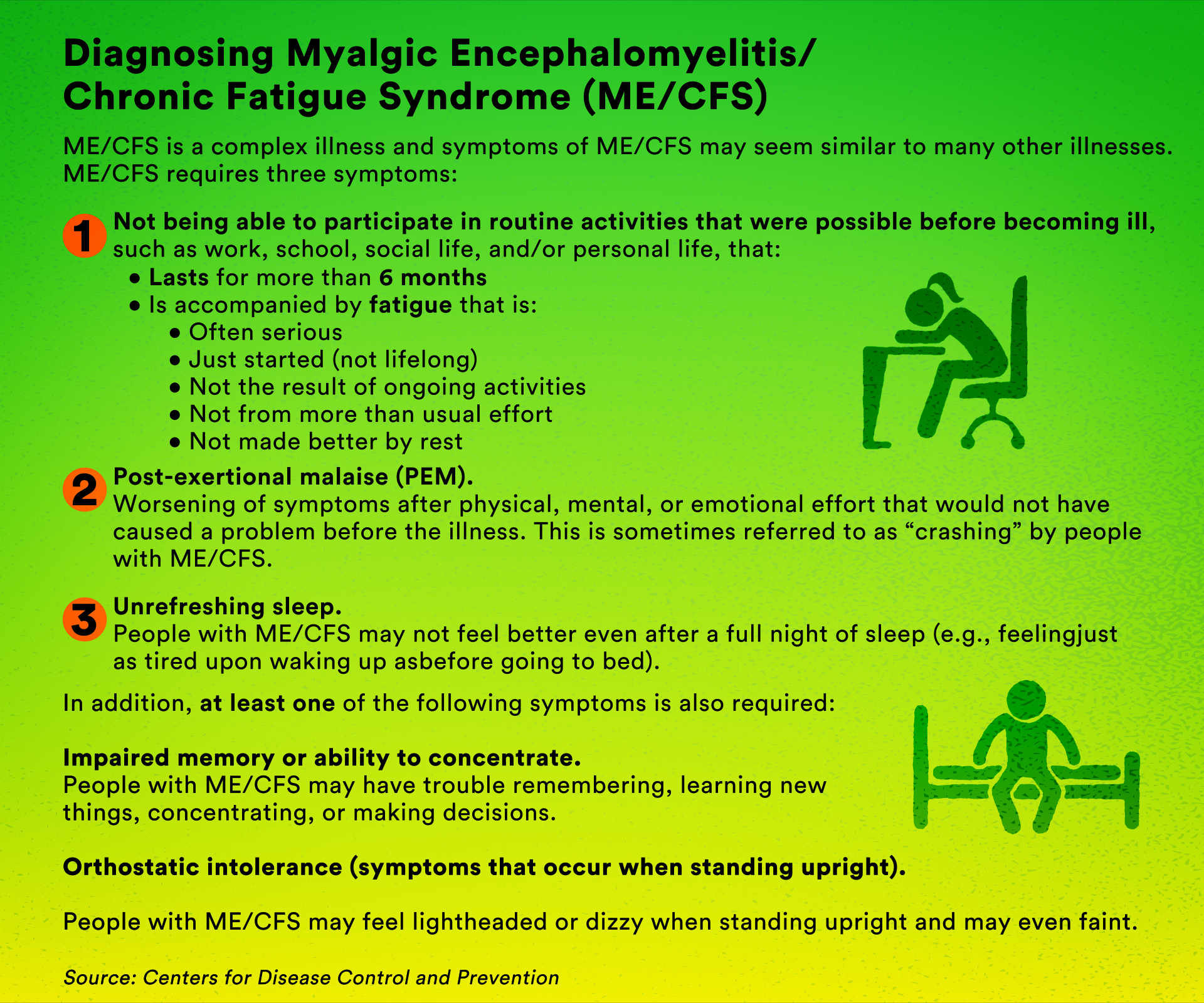 Many people with long Covid have similar symptoms to people with myalgic encephalomyelitis or chronic fatigue syndrome (ME/CFS), a debilitating condition that often follows viral infection. The defining feature of ME/CFS is intense fatigue and worsening of other health issues after physical or mental activity. This symptom, known as post-exertional malaise, often occurs with a lag, which can make it tough for doctors to diagnose — and even for patients to recognize themselves.
"What often happens is, people will go for a walk, they may not feel it for a day or two, and then suddenly, they feel ill on the third day," said Adam Lowe, a ME/CFS patient and co-founder of advocacy group U.K. branch of the Myalgic Encephalomyelitis Action Network, or MEAction. Patients might suddenly become bed-bound and have trouble focusing, he said.
This worsening of symptoms happens because a patient isn't producing and using energy in the same way as a healthy person, said Todd Davenport, a professor at University of the Pacific who has studied exercise and this condition. It's an internal change similar to the whole-body exhaustion that a marathon runner might experience at the finish line of their race.
A number of past studies and surveys of patients have demonstrated how dangerous exercise can be for people with ME/CFS. Many patients told to exercise by their doctors later dropped out of studies or treatment regimens, citing worsening symptoms. One infamous trial that pointed to exercise as a potential treatment was later discredited as deeply flawed.
Studying exercise as a treatment could "frame long Covid as something that can be overcome with grit and hard work," said Jaime Seltzer, the director of scientific and medical outreach at MEAction, arguing that such framing is "unsound and ethically troubling."
Not all patients with long Covid experience post-exertional malaise, and those who don't could find exercise helpful, Davenport said. In those cases, slow and careful exercise through a rehabilitation or physical therapy program might help repair energy systems that have fallen out of shape.
But it may be difficult to distinguish between these different groups of patients, unless a clinical trial is set up with the utmost caution. "Ideally, what you would want is a very coherent, very specific set of inclusion and exclusion criteria," Davenport said. Otherwise, the study would risk producing results that oversimplify long Covid, he added, leading doctors to widely prescribe a treatment that doesn't work for some or many.
Scientists and patient advocates responsible for advising RECOVER have warned that an exercise trial could harm patients, but received mixed responses. Patients involved in the study sent emails and social media posts demanding that RECOVER stop the planned trial, while MEAction sent a public letter to NIH leaders.
Scientists and clinicians on an NIH advisory committee focused on rehabilitation similarly suggested that post-exertional malaise could be a dangerous result of the trial, according to internal emails shared with STAT and MuckRock. In response, NIH program officer Antonello Punturieri pushed back on the concerns. Punturieri cited clinical guidelines from the World Health Organization and a U.K. agency, even though both recommend against exercise for people with ME/CFS.
In response to these concerns, RECOVER set up internal meetings including researchers in charge of the exercise study, patient representatives, and the initiative's top advisory committee. "Work is now underway to further revise that protocol" based on these meetings, the Duke Clinical Research Institute said.
The study's planned revisions will address concerns about patient safety, such as monitoring for post-exertional malaise after exercise. But it's unclear how the researchers will do this screening, or whether ME/CFS doctors will be involved.
Even with revision, experts and patient advocates remain concerned that the exercise study takes resources away from other research and could lead to harmful recommendations from doctors. If RECOVER finds exercise is helpful for some patients, asked JD Davids, author of a petition asking the NIH to stop this trial, "What are the chances that doctors would correctly understand how limited this recommendation is? I think it's very low."
It's not like there aren't plenty of potential treatment options worth studying.
Topol and other researchers compiled a full table of other treatment candidates for a review paper published in Nature in January. Experts on one of RECOVER's advisory committees compiled a similar list, for a paper published in March.
Given "the number of other candidate treatments out there, I can't imagine why you would choose graded exercise therapy," said Julia Moore Vogel, a researcher at the Scripps Translational Institute living with long Covid, and co-author of the Nature review paper. Vogel is leading a study of wearable devices for long Covid, which will start with about 500 participants despite planning for up to 100,000.
Millions of workers are dealing with long COVID. Advocates call for expanding social safety net.
One study has even reported results already, via a preprint shared by The Lancet in early March. The trial found that metformin, a common treatment for diabetes that also has antiviral properties, lowered Covid patients' risk of developing long-term symptoms by about 42%.
This research group actually didn't set out to study long Covid, said David Boulware, one of the scientists and an infectious disease physician at the University of Minnesota Medical School. The initial goal was to evaluate potential treatments for acute Covid-19, but the team added long Covid tracking partway through the trial.
And it's unlikely to get further study without some kind of government assistance. The initial study relied on philanthropic funding, and additional grants would be needed to keep studying this generic drug.
"It's a great drug, it's cheap, it's available worldwide," Boulware said, "but there's no profit margin for anyone to study it."
There may be similar concerns for research into low-dose naltrexone, an off-label use of the addiction drug that has become common for long Covid and other chronic diseases. In low doses, naltrexone can help reduce inflammation in the immune and neurological systems, potentially alleviating long Covid symptoms.
But because the drug has been widely available for decades, pharmaceutical companies aren't motivated to fund large trials. A few small clinical trials are underway, according to reporting by Rolling Stone.
The lack of help from NIH has left biotech executives frustrated.
"You have to understand what you're trying to tackle, so we support that, of course. But as patients will tell you, we want intervention, not observation," said Axcella CEO Bill Hinshaw. His Massachusetts-based company has gone all in on testing a drug candidate to treat long Covid symptoms, without any help from NIH.
Tonix Pharmaceuticals, which is developing a fibromyalgia medication that the company is hoping could be an effective treatment for long Covid symptoms, didn't receive any funding from NIH either, despite putting in an application.
"I hope there are more therapeutics trials. And I think that the therapeutics trials can go hand in hand with the natural history kind of studies like RECOVER," Tonix CEO Seth Lederman said.
Patients and experts fear that if RECOVER is the extent of federal effort to study long Covid, the condition could fall into the longstanding pattern of apathy and lack of urgency that has made breakthroughs in chronic illness treatment challenging.
NM state agencies denying telework as a disability accommodation
"It's clear that there are a lot of people at the NIH who are dedicated and determined, trying to figure this out," said Charlie McCone, a patient representative at RECOVER. As a result, "patients are confused" why only a handful of clinical trials have been planned and none of those have launched yet, he said.
As the NIH initiative drags its feet, patients are left largely on their own to research potential treatments, said Cole, the Brooklyn-based patient, who has been struggling with symptoms since April 2020. "Because we're not funding these promising treatments, and we're not disseminating them through the medical system, it's left to me to figure out how to make that happen for myself," she said.
Cole, like many others in the long Covid community, feels abandoned by the federal government and health care system at large. If her symptoms worsen to the point that she can no longer work, she said, "the system's not going to be there to pick me up."
Our stories may be republished online or in print under Creative Commons license CC BY-NC-ND 4.0. We ask that you edit only for style or to shorten, provide proper attribution and link to our web site.